ERCIM Fall Meetings in Budapest 2016
hosted by MTA SZTAKI
Budapest, 25-27 October 2016
For organisational matters, please contact Gusztav Hencsey, hencsey.gusztav@sztaki.mta.hu.
---
---
Agenda
Date
Time
Meeting
Venue
25 October
Tuesday

16.00-18.00
EEIG Board
SZTAKI
19.30-22.00
ECSS Conference
dinner Boat on the Danube
26 October
Wednesday
11.30-12.30
ECSS 2016 IE-ERCIM
Award ceremony
ELTE University
12.30-13.30
Lunch with ECSS participants
ELTE University
14.00-16.00
Task groups meetings
SZTAKI
17.00-19.30
AISBL Board
SZTAKI
20.00-22.00
ERCIM dinner with IE Board
Restaurant Hemingway
27 October
Thursday
09.00-11.00
ERCIM GA
SZTAKI
11.00-13.00
ERCIM/IE Boards
SZTAKI
---
Venue information
Except the programmes, when our participants will join the ECSS Conference (on Wednesday, 26 October, 11.30-13.30), all meetings will take place in the buildings of MTA SZTAKI.
| | |
| --- | --- |
| ECSS Conference venue: | Budapest, XI: Pázmány Péter sétány. 1/C., 1117 |
| MTA SZTAKI: | Budapest, XI. Kende utca 13-17., 1111 |
The transfer between the venues is 10-12 minute walk or 1 stop by tram "6" and 7-9 minute walk.
(In case of rain special bus transfer will be provided from the University to MTA SZTAKI.)
---
Accomodation
Block reservation is made in Hotel Flamenco with an easy access to the venues of the meetings.
http://www.danubiushotels.com/our-hotels-budapest/danubius-hotel-flamenco?sid=spdj51hf9n2trlfgsgudatdjb0&_ga=1.193335973.983535012.1468328853
Prices, including all taxes and breakfast:
Double room, single use: EUR 75
Double room, double use: EUR 85
Reservation by e-mail, using code: 97176
zsuzsa.szilagyi@danubiushotels.com
---
How to get from the airport to the city centre
As in all major cities, use caution and avoid taking a ride with strangers offering transfers to the city. Use either the shared shuttle (Airport Minibus) or the officially appointed cab company to service the airport (Főtaxi). There are also many private companies offering pre-booked limousines.
Airport minibus
Airport Minibus offers a shared ride to any address in the city for a flat fee. Discounted roundtrip tickets are also available. Advance booking is available online or by phone; however it's not necessary, as they have a booth inside each terminal on the arrivals level. After purchasing a ticket, your name will be called when the driver arrives. Booking a transfer to the airport generally requires a 24-hour advance notice. We at visitBudapest.travel have been using this service for many years and they have always been reliable. A one-way trip to the city center is HUF 3,900 per person and a return trip is HUF 6,900.
Phone: (+36-1) 550-0000
Website: www.minibud.hu
Taxi
On Sep 1st 2013, a new law was introduced in Hungary regulating the price and service of all taxis in Budapest. A ride to the city center should typically cost around HUF 6,500 / EUR 22 depending on traffic conditions. The officially appointed taxi company serving the airport is Főtaxi.
Public transport
Both terminals are accessible via public transport. Buses run between Kőbánya-Kispest metro station and the airport. The ride from the metro station to Terminal 2 takes about 30 minutes. The bus to take is 200E.
Single tickets, travel cards and monthly passes are sold at the Post Office at Terminal 2A (open Monday to Friday 8 am to 3:30 pm). Single tickets and ten-trip coupon books are also available at the Relay newsstands located at the arrivals-level at Terminal 2A and 2B (open daily 6:30 am to 11 pm).
---
About Budapest
Often described as the "Little Paris of Middle Europe", Budapest is famous not only for the monuments reflecting its own 1,000-year-old culture, but also for the relics of others who settled here. Remains from both Roman occupation and much later ruled by the Turks can still be seen in the city. After the Ottoman Empire the union with Austria has a particular influence on the city's form and style.
The capital has two sides, Buda and Pest, stretching along the banks of the Danube, representing two different characters of the city.
Suburban Buda and its historic castle district offer medieval streets and houses, museums, caves and Roman ruins. The dynamic Pest side boasts the largest parliament building in Europe, riverside promenades, flea markets, bookstores, antique stores and café houses.
Budapest has a lot to offer. Museums and galleries, churches and synagogues, palaces and historic buildings, baths and pools are presented together with the influence of Secession in the city.
There is an unmistakable feeling that something out of the ordinary is just around the corner, but what it will be is up to you to find out...
---
Explore Budapest!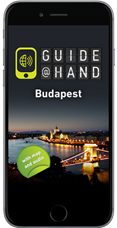 GUIDE@HAND is an audio tourist guide application available on smart phones.
You can standalone discover the city during their one- or two-hour-long enjoyable walks.
You can get from one point to another by the help of voice instructions while walking.
They give you offline interactive maps, therefore, you do not have to pay for the Internet (e.g. roaming).
On your way, you can find useful places as well (e.g. restaurants, entertainment, shops, etc.) on the map.
You can use it in various languages.
Some video tutorials of the application:
Available for iOS and Android smart phones:
iOS link: http://itunes.apple.com/us/app/budapest-guide-hand-audio/id417961386?mt=8&ls=1
Android link: https://play.google.com/store/apps/details?id=hu.sztaki.guideathand
---
Useful information
Emergency numbers in Hungary
Police/Fire/Ambulance Phone: 112
Public transport tickets
http://www.budapestbylocals.com/budapest-public-transport.html
WIFI hotspots in Budapest